Direct line
+33(0)2 30 17 00 20
Monday to Friday
9am-12pm / 2pm-6pm
UHD6G-200
Miniature broadcast camera 4K EFP, 6G-SDI
Product Reinsurance

Solutions expert

Secure payment

Direct line
Description
UHD6G-200 is a 4K EFP 6G-SDI micro camera. It features an advanced progressive scan 4K UHD CMOS image sensor coupled with a 4K (4096 × 2160) 6G-SDI output for industrial and broadcast applications producing high quality 4K video. Integrated in a very robust miniature case, it has been designed to accept interchangeable C/CS-mount lenses, making it highly versatile in terms of applications.
4K UHD 1/2.5'' Progressive Scan sensor for ultra-sharp video in different lighting conditions
Digital imaging processor providing vivid and detailed images (Dynamic Range and noise reduction)
Noise reduction filter that allows effective noise reduction for videos without blurring them
Output 6G-SDI 4K/30
Audio input jack 3.5mm to embed the audio signal on the SDI
Intergangeable C and CS mount lens (supplied with a 3.6 mm lens as standard)
Control by OSD and RS-485
Compact and robust metal design
Applications : Broadcast Studio and TV set, medical, conference rooms, theatres, classrooms, concert halls, security, industry...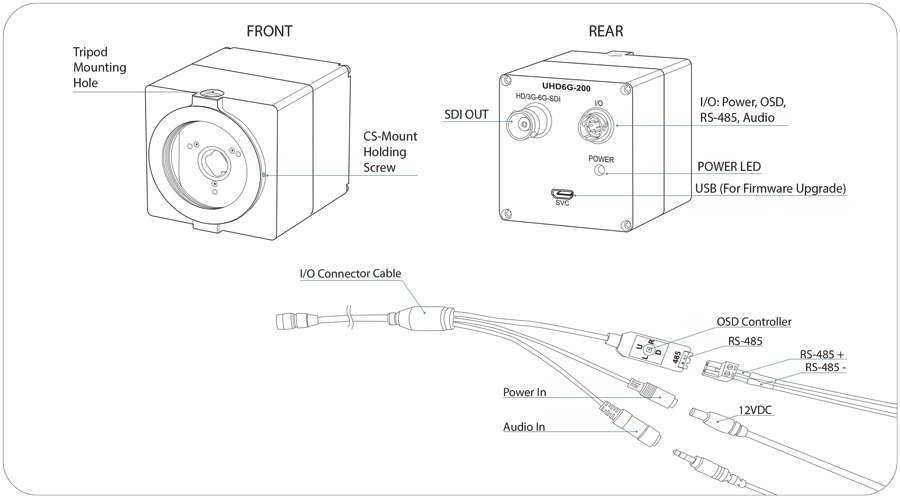 Data sheet
Inputs
1x Audio on 3.5 mm f. jack
Other ports
1x RS-485 on terminal block
Outputs
1x HD/3G/6G/6G-SDI on BNC f.
Managed Resolutions
4K (4096 x 2160) 20/24p2160p 30/29.97/25/241080p 60/59.94/50/30/29.97/25/241080i 60/59.94/50720p 60/59.94/50/30/25
Sensor
1/2.5" Progressive CMOS
Optics
C/CS Mount lens (Default 3.6mm HD Lens)
Illumination
0.2Lux (Day), 0.1Lux (Night), 0.005Lux (Slow Shutter ON
White balance
AWB / AE / AF
Shutter
Full Auto, Bright, Shutter Priority, Iris Priority, Manual
Protocole
RS-485 Remote Controller
Dimensions
49 x49 x 71 mm x 49 x49 x 71 mm

Solutions expert

Secure payment

Fast delivery time

Direct line