Direct line
+33(0)2 30 17 00 20
Monday to Friday
9am-12pm / 2pm-6pm
controlCUE-two
IP control centre for large sized rooms
Product Reinsurance

Solutions expert

Secure payment

Direct line
Description
controlCUE-One is a professional IP-based professional automation system that allows the centralized control of audiovisual equipment and automation systems in a meeting or conference room. Its latest-generation ARM processor enables it to quickly execute commands through an intuitive and personalized interface, from a Cue Systems touch screen or an iPad or Android tablet. With 6 bi-directional RS-232 ports, 8 infrared outputs (configurable RS-232 unidirectional), 8analog inputs/outputs, 4 24V relay outputs and 1 line audio input/output, this control unit can control all types of multimedia devices (video projectors, Blu-ray players, audio amps, speakers, ...) and electrical devices (lights, shutters, air conditioning, projection screen, ...). It can also be complemented with Cue external modules to control other technologies such as KNX, Enocean, DALI or DMX. controlCUE-One is a very affordable solution that is very well suited to control medium-sized meeting or conference rooms.
Hardware platform with ARM processor
256 MB RAM
Internal Micro SD min 4GB
Operates in wired IP 10/100 BaseT
On-board real time internal clock
Different inputs/outputs: 6x RS-232, 8x IR, 8x GPIO, 4x Relays
Line audio input/output
Embedded web server manageable by web page
Rack format 1/2 19'' 1U
Data sheet
Control ports
6x RS232 bi-directionnel 5 pins
8x IR/RS232 uni. 2 pins
8x GPIO 5 pins
4x relais 24V 3 pins
Other ports
1x RJ-45 10/10 Base/T
Audio
1x audio in 3-pins1x audio out 3-pins
Memory Memory
256 MB RAM4 GB SD card storage
Dimensions
210 x 43.5 x 92 mm
Fields of applications
Education

Residential

Hotel

Corporate

Ship
You might also like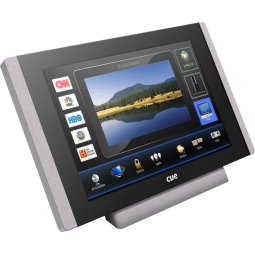 7'' wired tabletop touch screen for room management
7'' wired tabletop touch screen for room...
€1,552.00 HT
€1,552.00 TTC

Solutions expert

Secure payment

Fast delivery time

Direct line