Direct line
+33(0)2 30 17 00 20
Monday to Friday
9am-12pm / 2pm-6pm
HEML-0034K6
HDMI 2.0 4K/60 extender on multimode optical fiber 300 meters
Product Reinsurance

Solutions expert

Secure payment

Direct line
Description
HMML-0034K6 is an ultra-miniature transmitter/receiver pair for transmitting the HDMI 2.0 UHD signal over 300 meters of optical fiber up to 4K/60. The transmission is made by multimode OM3 fiber which is clipped directly onto the transmitter and receiver with LC connector. HMML-0034K6 is ideal for 4K/60 real-time transmission over 100 meters in professional and residential environments.
Long distance UHD transmission

Real-time EDID and HDCP transmission

Up to 300 meters per fiber OM3 Multi mode

Supports resolution up to 4K (3840x2160 4:4:4:4) at 60Hz
HDMI 2.0
Ultra compact
Data sheet
Inputs
Receiver: HDMI 2.0 f.Receiver: LC connector
Outputs
Receiver: LC connectorReceiver: HDMI 2.0 f.
Maximum resolution
4K (3840 x 2160) @ 60 Hz 4:4:4:4
Bandwidth
6 Gbps / Channel
Optical converter
Transmitter: 6 wavelength VCSEL CWDM (5Tx/1Rx)Receiver: 6 wavelength VCSEL CWDM (5Rx/1Tx)
Dimensions
78.11 x 40.5 x 14.89 mm
You might also like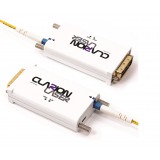 DVI 1.0 Extender on 300 meters optical fiber
DVI 1.0 Extender on 300 meters optical fiber

Solutions expert

Secure payment

Fast delivery time

Direct line