Direct line
+33(0)2 30 17 00 20
Monday to Friday
9am-12pm / 2pm-6pm
BRIDGE-UHD-HOT
HDMI 2.0 4K transmitter on LC optical fiber 10 km
Product Reinsurance

Solutions expert

Secure payment

Direct line
Description
The UHD-HOT Bridge is an HDMI 2.0 4K transmitter/converter on optical fiber. It allows the HDMI 4K/60 signal to be transmitted over a long distance over optical fibre to the UHD-OHR receiver. Incorporating Optima technology, it is also capable of converting the signal, making it compatible with other Optima technology receivers (e. g. fiber optic to 12G-SDI receiver). The UHD-HOT Bridge is a powerful and very compact module for transmitting a 4K HDMI 2.0 video signal over very long distances. It is perfectly suited for audiovisual integration, broadcast, TV, service and event applications.
Supports HDMI 2.0
Embedded Optima technology (transmission and conversion)
Resolution from 720p to 2160p 60 Hz
LC Dual Mode Fiber, max 10 km
Ultra-compact format
Data sheet
Inputs
1x HDMI 2.0 on HDMI port f.
Outputs
1x optical fiber LC
Managed Resolutions
from 720p to 2160p at 60Hz
Dimensions
68 x 59.2 x 22.5 mm
You might also like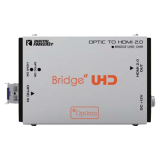 LC to HDMI 2.0 4K fiber optic receiver
LC to HDMI 2.0 4K fiber optic receiver

Solutions expert

Secure payment

Fast delivery time

Direct line