Direct line
+33(0)2 30 17 00 20
Monday to Friday
9am-12pm / 2pm-6pm
D412
4K x12 zoom PTZ camera with DANTE AV and HDMI 2.0 inputs
Product Reinsurance

Solutions expert

Secure payment

Direct line
Description
The D412 Bolin Technology PTZ camera is the world's first PTZ camera to incorporate DANTE audio and video technology. Fully compatible with Dante AV standard products, it integrates seamlessly over a gigabit network to provide uncompromised video quality with extremely low latency.
Designed to integrate seamlessly into an existing Dante audio ecosystem, the D412 camera is managed using Dante control software. It provides the ability to independently route audio and video with sub-microsecond accuracy to minimize time alignment issues. This is accomplished through a single network clock that always keeps the camera's video and audio synchronized, regardless of the number of Dante receivers in the ecosystem. The Dante control software also allows you to fully matrix AV signals within the Dante network, without having to go through other hardware such as matrix switchers.
Featuring a 1/2.8" Sony IMX415 CMOS sensor, the D412 delivers a very high quality 4K image through its HDMI 2.0 and IP Dante AV outputs. The Dante AV signal from the D412 camera is picked up by the Dante Bolin D10H(HDMI), D20S(12G-SDI) AV decoders or any other receiver that supports the standard.
Because of its Dante AV compatibility, which allows it to integrate seamlessly into a Dante ecosystem, D412 Bolin is a unique camera offering a wide range of possibilities for professional video capture in many types of environments: museums, auditoriums, theaters, bars, clubs, conferences, town halls, ...
PTZ camera with 12x optical zoom
4K/60 resolution
HDMI 2.0 and IP outputs (DANTE AV + Streaming)
Compatible with any Dante device
Video signal routing via Dante network
100% synchronized audio and video
Mic-in/Line-in audio inputs to embed audio on Dante
Ultra quiet PTZ movement
Control via RS-232, IP and IR
Data sheet
Inputs
1x Audio in 3.5mm f.
Outputs
1x HDMI 2.0 f. 1x IP RJ-45 f (Date AV)
Managed Resolutions
See datasheet for all resolutions
Camera module
Sony IMX415, 1/2.8 Inch Exmor R CMOS
Optics
Optical Zoom 12X, Digital Zoom 12X
FOV
H : 72.06°(W)~6.86°(T) - V : 44.51°(W)~3.86°(T)
Illumination
Color: 0.005 lux at Auto Exposure Mode
Focus
Auto, Manual, One Push
White balance
AUTO, ATW, Indoor, Outdoor, One Push WB, Manual WB, Outdoor Auto, Sodium Vapor Lamp
PTZ range
Horizontal:±175 degrees continuous pan (Zoom Adaptive Speed Range: 0.05°〜100°/S )Vertical:+90 degrees to -30 degrees (Zoom Adaptive Speed Range: 0.05°〜50°/S)
Protocole
VISCA. Serial Over IP (Dante AV), VISCA Over IP, PELCO_D, PELCO_P
Control
RS232/422/485, IP, IR
Consumption
Min: 33, Max: 37W
Dimensions
272 x 156.6 x 206.1 mm
Fields of applications
Defence

Culture

Administration

Corporate

Live Events

Hotel

Education
You might also like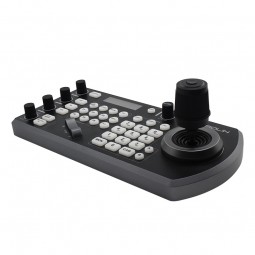 4-axis IP keyboard for PTZ conference cameras
4-axis IP keyboard for PTZ conference cameras
€1,595.00 HT
€1,595.00 TTC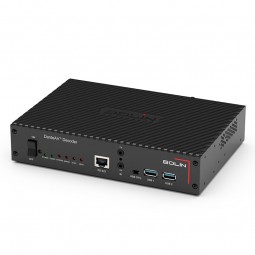 HDMI and 12G-SDI Dante AV Encoder/Decoder
HDMI and 12G-SDI Dante AV Encoder/Decoder
€2,595.00 HT
€2,595.00 TTC

Solutions expert

Secure payment

Fast delivery time

Direct line